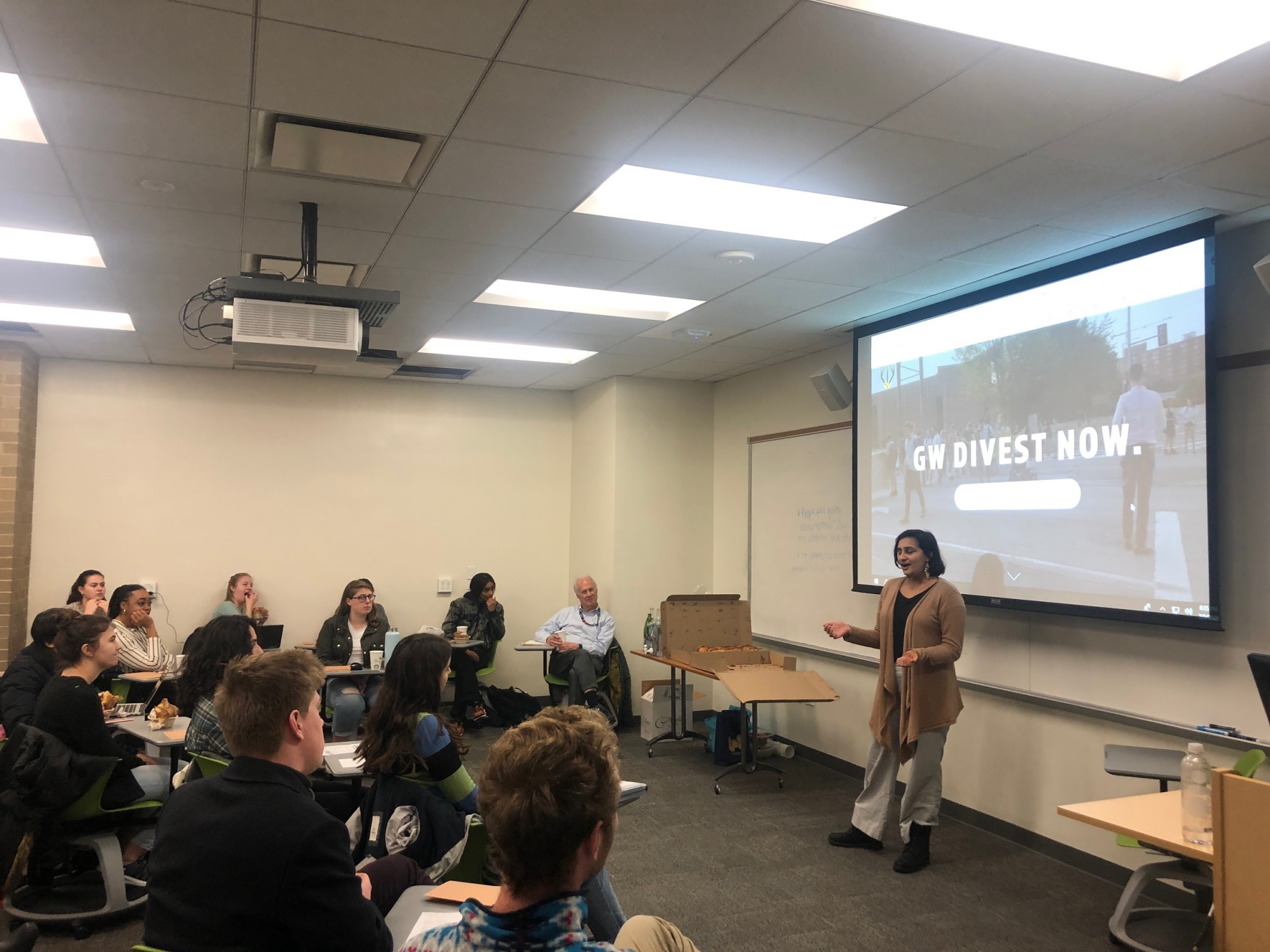 Khadija Khokar, a GW freshman and DC climate activist, speaks on the importance of participating in local climate strikes and exercising your political power.

Last Wednesday, environmental organizations, professors, climate activists, and Sustainability students alike came together for an exciting teach-in event put on by Sustainable GW. Recently, GW was asked to be the host school in DC for Bard University's national climate initiative called "Solve Climate by 2030", where universities all around the country are tasked with the goal of starting local conversations and activism opportunities regarding climate change.

"Fighting for the Planet in 2020" is the first event put on by Sustainable GW for this campaign, and it was strategically scheduled during 2020 ChangeMaker Week. With climate change becoming a more urgent global issue to tackle than ever, the goal of this teach-in event was to empower students in the DMV to create the political will to take action on climate change. 

The event featured speakers from all walks of life and backgrounds to speak on the importance of climate activism. Speakers ranged from science professors to student activists to engineers - emphasizing how climate change is truly an intersectional issue that requires contributions from all fields, and affects us all.

The night kicked off with an empowering speech from Professor Bill Dietz, Director of Sumner M. Redstone Global Center for Prevention and Wellness, who has been heavily invested in expanding the student-led environmental movement on campus. Dietz sought to empower the individual to take action in his speech, describing how "political will is what is lacking in the area of climate change, and some of the most profound changes occur on an individual basis."

Following Dietz were a series of talks delivered by several climate activists on campus, the majority of them speaking on behalf of an environmental organization that seeks to expand their membership and reach. Representatives from This Is Zero Hour, Extinction Rebellion, Take Back The Tap, and Sunrise GW delivered incredibly inspiring speeches, presenting attendees with a multitude of opportunities to get involved in climate activism on campus, in DC, and beyond.

While the discussion heavily focused on the climate movement's global reach, there were also very relevant conversations on the climate movement that have erupted on GW's own campus. This past month, Sunrise GW propelled a campaign that urges the university's leadership to completely divest its endowment from fossil fuels, and demands full transparency of the Regulatory Studies Center, a research center on campus that is funded by fossil fuel billionaires and produces biased research that supports deregulation.

Sunrise GW's representative, Maddie Goldstein, urged students to sign their divestment petition, emphasizing how "everyone needs to understand that we've reached a point where it can no longer be business as usual."

The petition currently has the support of nearly 50 organizations (both on-campus and off-campus) and 1,600 signatures from students, faculty, and staff. Sunrise has also been leading protests all week on campus, giving students the platform to truly stand up to the administration and express their grievances.

The teach-in concluded with an interactive presentation led by Citizens' Climate Lobby, giving attendees the opportunity to tweet and write letters to their Congressional representatives. CCL DC Chapter lead  Max Broad inspired students to speak up to the representatives on the change they wish to see regarding climate policy, highlighting how "if American citizens don't raise their voices on climate change, then they [members of congress] will take it as a sign that they can continue not taking environmental action."

If you did not get the chance to attend this inspiring night of climate activism and collaboration, no worries. Many more opportunities to fight for our planet are on their way.
Article by Francesca Edralin (ESIA '22)